A couple new hues to the Protocol-osseum!
by Bill Cable
on 2021-08-18, 08:10:38
I'm at the point with my focus collection that things I need pop up only once in a blue moon, and when they do 9 times out of 10 they are so expensive I don't even make a play for them.  Do I want a 12-back Meccano or a Poch?  Absolutely!  Could I possibly spend 3 months' mortgage to get one?  Nope.
So to keep myself engaged, I take on little side-quests.  And one of those has been to pick up interesting loose 3POs.  So I saw an auction.  The 3PO looked like it was in pretty decent shape, and the finish looked somehow atypical.  There was a blemish on the back, but otherwise it looked solid, if odd.  I decided to make a go of it as long as it went relatively cheap.  It did.
At nearly the same time, a different 3PO popped up.  This one I thought was much more interesting.  I have been on a mission for years (apparently, since 2004!) to track down a loose freakishly gold C-3PO to pair with my carded example.  I've never seen one in person at a show.  My attempts online have been fruitless, mostly because it's really difficult to get an accurate hue in digital photographs.  The one in this auction, I thought, had particular promise.
I've been burned many times before on what looked like dark gold 3POs.  I think sometimes sellers might play with their photos to make the figure look golder, and other times the photos are just bad.  But this one looked different.  The wall behind it looked suitably off-white, and the gold looked dark even if it was mostly reflecting the table, which looked natural.  So I figured why not, and went for it.
When the arrived, it was pretty good news all around!
The first (left) was indeed very nice.  And the finish is somehow less lustrous than normal (something I couldn't capture in photos).  And the second (right) was very dark gold!  It wasn't a camera trick or a digital manipulation.  But there was still the question - was this indeed a freakishly gold 3PO??
Almost... ?
Here's a side-by-side: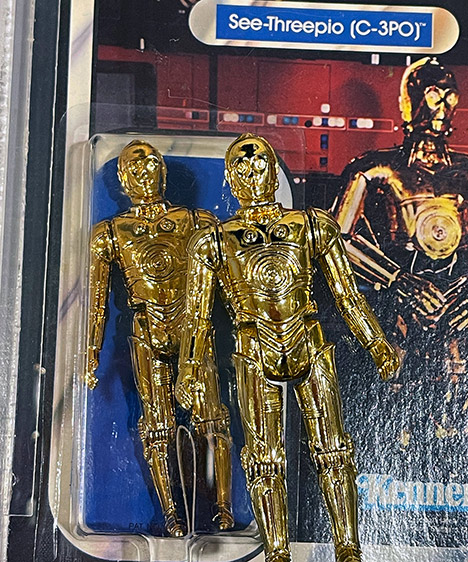 It's just a hair less dark gold - so little that it's hard to capture in photos.  Even in person it's hard to tell, depending on the lighting.
All-in-all, it was a noble effort.  I made the right choice in taking the chance - it was very nearly a win.  But as it stands, the 17-year quest is yet unfinished.