Quick & Dirty Review: Amazon's Black Series Greedo
by Beedo Sookcool
on 2021-06-27, 14:38:55
To celebrate the 50th Anniversary of the founding of LucasFilm Ltd, Hasbro is putting out a large number of commemorative products, most of them as frigging exclusives. This is the story of one of those frigging exclusives . . . .
Well, as Greedo was my first-ever Star Wars figure, I have an inordinate fondness for that green goon. And when I saw this figure was slated for release as an Amazon exclusive, I was compelled to acquire it. COMPELLED, I tell you! Somewhere, amidst the insane rush, sell-outs, scalping brouhaha, and restocking, I managed to place my order, and he duly arrived at our front door.
My sample arrived in a slightly dinged-up protective Hasbro mailer (its own, rather than being packed inside its Hasbro mailer, which should have then been packed inside an Amazon shipping box for safety). But upon opening it, the card, bubble, and figure were absolutely pristine. I "lucked out," because others have reported receiving theirs in a dinged or crushed state due to insufficient packaging. This is an area for improvement, Amazon!
The cardback looks great from the front, duplicating the look of the original from the 1970s, right down to the Kenner logo . . .
. . . and the back shows Greedo's big-screen debut confronting Han Solo, along with an LFL timeline and a metric boatload of legalese fine-print.
It's slightly thicker, sturdier cardstock than the usual commemorative Black Series releases, so they listened to us on that matter and made the requested improvement.
The plastic bubble is nicely sturdy, too. So if you're planning on displaying it mint-on-card, it's a treat to look at.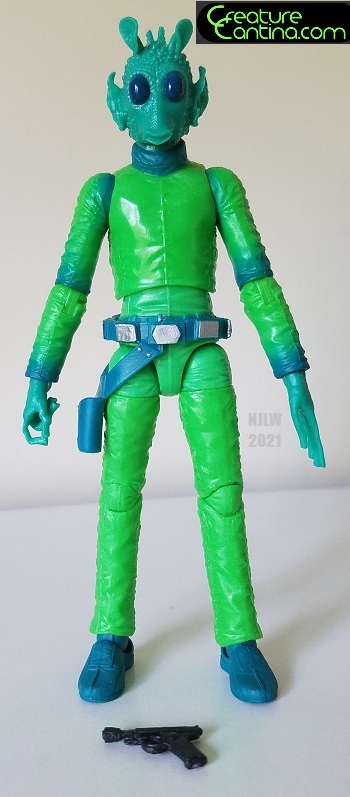 The figure itself is pretty much exactly the original 6" Black Series release of Greedo, except without the vest, and in the garish retro colour scheme of lime green and aqua clothing, with darker jade skin and non-metallic, deep blue eyes.
The paint on mine is a little uneven; his jumpsuit is supposed to have dark aqua bands on his neck, shoulders, elbows, and wrists, but the left shoulder on mine barely got any of the paint. Also, instead of the bands on his arms having distinct, clean edges like the original figure's, they've got a disconcerting fade on them, like they're alien sweat stains wicking up the fabric, or something.
The joints are decent -- a little too tight on some, a little loose on others -- but he stands and poses perfectly adequately, and your own results may vary.
If you want to replicate his retro look more closely, his holster belt is removable (and replaceable) via a cleverly-concealed snap-closure on the front. Plus, you can also see that his lower abdomen and hips are a noticably different shade of green from the rest of him.
He also comes with his trademark BlasTech D-12 Heavy Blaster Pistol, that he can either hold neatly in his right hand, or store snugly in his holster. His left hand was a little warped from being crammed into the bubble insert, but some hot water soon fixed that.
Is it worth $30 - $40, though? Well, that's up to you. For most people, I think it's a "no." For that amount of money, it would've been nice for them to have exactly replicated the original figure's ribbed jumpsuit, knee-high boots, gripping left hand, open right hand, and repacked Han's pistol, instead of just pulling a palette-swap on an existing mould. Y'know, something along these lines:
(I know, I know, the colours are off on the custom one. Best I could do, at the time.) Furthermore, such a mould could easily be reused at a later date, for other characters. Missed opportunity, there.
And it certainly isn't worth paying scalper prices for it!
But the thing is, this figure takes me back to Christmas 1982, and getting the original Greedo that this figure is based on, as a present from my pal Dave down the street, so it gives my brain a happy. And that's what matters, isn't it? And I did have quite a bit of fun with him when he arrived . . . .
Having said that, the slapdash minimal paintjob, and no changes, upgrades, or improvements whatsoever for the elevated price tag, push this figure over the edge from being a wonderful, worthy nostalgia piece to being a shameless cash-grab. And that's why I'd give it four stars instead of the full five. But that's just me, and I still really like it, though. For more casual fans, it'd probably be one or two stars out of five. This figure's pretty much just for Rodian enthusiasts, really.