Unboxing my biggest purchase of 2020!
by Bill Cable
on 2020-12-23, 08:05:18
2020 was a pretty slow year for me collecting-wise.  My only notable purchases were the "master run" of C-3PO Danbury Mint chess piece prototypes and a Kenner-sculpt Takara C-3PO 12-back.  Part of that was everything being cancelled for COVID.  The other part is it's just really hard to find Vintage 3PO stuff I want that I don't already own.
But two weeks ago an opportunity fell into my lap!  One of my Facebook friends, Trevor Wencl, reached out looking to unload a piece that no longer fit his focus.  It's a piece I wanted for quite a while, so we agreed on a price and it was on its way to me.
When the box arrived, I was kinda worried, cuz the box had a pretty significant dent in it...
But overall it didn't seem like it was too badly damaged.  When I opened the box, all my fears were allayed.  Not only was the box full of packing materials, the figure itself was double-boxed!
So I know the question you want me to answer already... "What's in the box??"
That's right!  It's a 50-back Lili Ledy C-Tri-Pi-O!  
Full disclosure - it's a partial reseal.  Opened from the top of the bubble, then reglued.  That's rarely something I'd purchase, but with Ledy MOCs being nearly impossible to find, it's probably the closest I'll get to case fresh.
Still, it displays fantastic!  The bubble is in nice shape, as is the card itself..
Note the original price stickers, which have been partially removed.  I'm guessing whoever resold it didn't want to confuse anyone on the price.  You can also see a bit of Sharpie touch-up on the top edge of the bubble.
But the real highlight for me is the back.  It's a single plate print on plain brown cardboard, depicting line art renderings of 50 action figures.  So far as I know, Lili Ledy is the only manufacturer to produce backs like this, making them genuinely unique and awesome.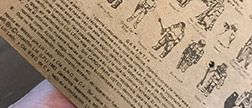 I've always been curious what the artist used as the source for their drawings.  Some of them look to match the photographs from the back of the Vintage cards. But then others look totally unique.  Maybe the matches are just coincidence, and the artist simply drew all of them from actual figures?  No clue, but I've always wondered.
C-Tri-Pi-O joins all of his 3PO brothers proudly on display in The Protocol-osseum.  It was a nice way to wrap up 2020, with a last-minute, big-ticket purchase.