Droids Custom Lando Skiff: Colors finished!!
by Bill Cable
on 2019-12-04, 07:20:00
I did what I set out to do over the holiday - I completed coloring my Lando art. After a bit of experimenting, I figured out a nice way to simulate a rough plaster texture that matched the source photo. That photo ended up being absolutely invaluable. Check out the final colors!
Apologies for the ugly watermark - but I don't want my art stolen again by eBay jerks.
The next challenge was to get the art laid out right on the card template. Here's a progression of attempts. In the first one, you can see it's a bit too washed out, and the characters are just too small.
So I reduced the opacity of my wash-out mask, and I made a big sacrifice... blowing up the art larger and losing most of my Bib behind the bubble area.
I'm pretty happy with that... but thinking about it now as I write this, I'm wondering if I could shift Bib over in Photoshop so you'll see more of him. To be continued...
The last thing I did was change the nameplate and pick a bubble area color. And I decided to color-match Jess' hair with that bright, popping blue. I'm super happy with that choice!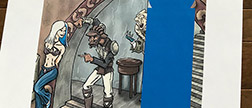 With the colors done, I spent an hour cleaning up the edges of my coins, and lined them up on my board to paint them.
It's looking like cold weather all week, so I'll probably need to paint these indoors and just suck up the fumes. Not the ideal situation, but what can you do? I'm hoping to get done with the back of the cards and maybe even start assembling these over the next week. Wish me luck!!